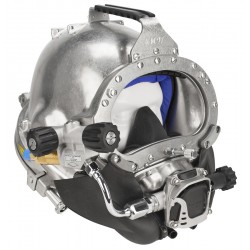 Availability:
Usually Ships in 1 Week
Restrictions / Notifications:
Reseller Restriction: Due to vendor restrictions, this item cannot be sold to a reseller. If you are a reseller, please call us at 281-858-6333 or email sales@rovsco.com for more details.
Call for Price: 1-281-858-6333
The Kirby Morgan® 97 Features The 455 Balanced Regulator. The 455 Is An All Stainless Steel Regulator With Superior Breathing Performance And The Added Advantage Of Compatibility With The SL 27, 17C, KM 37, KM 37SS, KM 57 Helmets As Well As The KMB 18 & 28 Band Masks. The Overall Performance Of This Regulator Is Outstanding And Sets A New Performance Standard For Commercial Diving Helmets And Band Masks. The KM 97 features a quick change communications module, available with either bare wire posts or waterproof connector, and allows for easy, efficient maintenance of the communications. This same communications system is found in all our helmet models (with the exception of the SL 17B and 17C). The advantages of this stainless steel helmet include the following: Rugged helmet shell and other components No refinishing required if the surface is scratched or gouged Elimination of threaded inserts for securing port retainer to helmet shell.
Weight: KM 97 - 31.09 pounds
Helmet Shell: Stainless Steel
Control Knobs: Polyurethane
Face Port/Lens: Scratch Resistant Polycarbonate
Neck Dam: Neoprene. Optional latex neck dam available
O-Rings: Buna-N
Head Cushion: Nylon bag filled with #4 Polyester foam
Recommended Lubricants: All helmets and masks are lubricated at the factory with Christo-Lube®. Kirby Morgan recommends Christo-Lube® or Tribolube® for all gas train components. Dow Corning® 111 Silicone or equivalent may be used for helmet and mask components that are used with gas mixtures containing less than 50% oxygen.
Regulator: The 455 balanced regulator on the KM 97 offers high performance. The regulator has been tested at Dive Lab at Panama City, Florida. It meets or exceeds all current U.S. Navy and European diving standards.
Cage Code: The cage code for identifying KMDSI products for U.S. government purposes is 58366.
CR Standards: This helmet meets or exceeds all standards established by Dive Lab of Panama City, Florida, and are CR (Commercially Rated) marked.
CE Approved: The KM 97 helmet is CE Approved.
Note
The minimum operating temperature recommended for this helmet is 37 degrees F, only in regards to regulator performance. At the time of this writing, no hot water shroud is available for this helmet for heating the diver's breathing gas.
Without a hot water shroud, the diver may be subject to hypothermia due to cold gas inspiration temperatures. Kirby Morgan makes no physiological recommendations regarding minimum safe operating temperatures for divers using this helmet.
Usually the greatest danger of demand regulator icing will be encountered on deck when the surrounding air temperature is less than 32°F (0°C). This effect is primarily due to the refrigeration effect of breathing air pressure reduction, and the addition of moisture from the diver's exhalation coming in contact with the topside air temperature.
Recommended overbottom (OB)gas supply pressure for best performance at depths are calculated by the formula (fsw x 0.445+14.7) + recommended p.s.i. g.