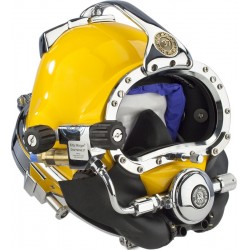 Availability:
Usually Ships in 1 Week
Call for Price: 1-281-858-6333
The Kirby Morgan® 37 Continues Our Tradition Of Providing The Highest Quality And Superior Performance. The Kirby Morgan 37 Diving Helmet comes standard with the Quad-Valve™ exhaust system, which has less breathing resistance than the older single valve exhaust while providing an extremely dry hat. This system is recommended for diving in biologically contaminated water. Our SuperFlow® 350 regulator is a proven design that provides excellent breathing characteristics over a wide range of depths. The Kirby Morgan 37 is one of the most popular designs in the world. It's considered the standard of the commercial diving industry, as well as the U.S. Navy. Choose the Kirby Morgan 37 if you want a rugged diving helmet with a traditional design.
Weight: KM 37 - 32.6 pounds
Helmet Shell: Fiberglass, polyester resin, polyester gel coat, and carbon fibers
Control Knobs: Polyurethane
Face Port/Lens: Scratch Resistant Polycarbonate
Neck Dam: Neoprene. Optional latex neck dam available
O-Rings: Buna-N
Head Cushion: Nylon bag filled with #4 Polyester foam
Recommended Lubricants: All helmets and masks are lubricated at the factory with Christo-Lube®. Kirby Morgan recommends Christo-Lube® or Tribolube® for all gas train components. Dow Corning® 111 Silicone or equivalent may be used for helmet and mask components that are used with gas mixtures containing less than 50% oxygen.
Regulator: The SuperFlow® 350 regulator on the Kirby Morgan® 37 offers high performance. The regulator has been tested at Dive Lab at Panama City, Florida. It meets all current U.S. Navy and European diving standards.
Cage Code: The cage code for identifying KMDSI products for U.S. government purposes is 58366.
CR Standards: These helmets meet or exceed all standards established by Dive Lab of Panama City, Florida, and are CR (Commercially Rated) marked.
CE Approved: The KM 37 helmet is CE Approved.
Temperature Limitations: Use at water temperatures below 33 °F (1 °C) requires use of hot water shroud (P/N 525-100) and hot water.
Note:
The Hot Water Shroud (Part #525-100) in conjunction with hot water to the diver should be used whenever diving operations are conducted using HEO2 at water temperatures less than 60°F (15.56°C) for the comfort of the diver. KMDSI further recommends that the shroud be used in conjunction with hot water to the diver whenever diving operations are conducted using air or mixed gas, in waters colder than 36°F (2.22°C) to reduce the possibility of demand regulator icing.
Usually the greatest danger of demand regulator icing will be encountered on deck when the surrounding air temperature is less than 32°F (0°C). This effect is primarily due to the refrigeration effect of breathing air pressure reduction, and the addition of moisture from the diver's exhalation coming in contact with the topside air temperature.
If diving where the water temperature is 36°F (2.22°C) or warmer but the topside air temperature is below freezing, (32°F (0°C) icing of the demand regulator is possible. To help eliminate the possibility of freezing on the surface, warm water should be run over the exterior of the demand regulator prior to water entry, if the hot water system is not used.
Only equipment certified and tested according to EN 250/E DIN 58 642 may be used with the KM 37 helmet when conducting diving operations in European EC compliant countries.
The umbilical assembly should be composed of good quality diving hose that meets industry standards. Generally, gas hose will be married to the communications wire, pneumofathometer hose, and strength member in a manner that will allow the strength member to receive all the strain. There are also good quality umbilicals available that are assembled at the factory using a twisted method which does not require marrying. Regardless of the system used, the umbilical is the diver's life line and should always be of excellent quality and maintained carefully.